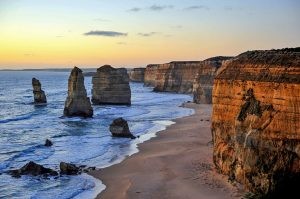 This colourful seaside village, Port Campbell is a place to slow down, relax and take in the views of the Southern Ocean. Just a short drive to the 12 Apostles, these massive limestone structures tower 45 meters above the Southern Ocean and are a breathtaking sight to behold.
Food is in abundance in this colourful sea side village, some of the best places to eat are:
For the sweet tooth there is thePort Campbell Lolly Shopwhich sells a reange of lollies, licorice, chocolate and nuts.
Port Campbell Lobster is located on the outskirts of town where you can buy fresh caught lobster of the day.
You can also purchase cooked lobster as well.
Popular local surf breaks including two mile& the point have drawn surfers form all over the world.
There is also a quirky little coastal shop Port Campbell Trading Co, which has a mix of surf hardware,surf and fashion clothing, accesories, giftware and much more.
For those seeking adventure there is scuba diving inThe Arches Marine Sanctuary , The Great Ocean Walk, Surfing and fishing off the Port Campbell Jetty.