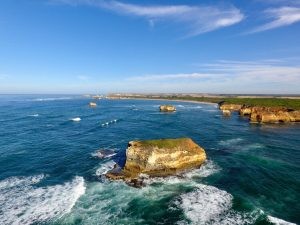 Peterborough, the last unspoiled town long the Great Ocean Road, centrepieces the rugged shipwreck coast.
The Curdies River connects to the Southern Ocean via a magnificent fresh water estuary and is home to some of the best beaches, fishing and diving in Southern Victoria.
Surfers from all over the world can sometimes be seen frequenting pristine surf breaks including The Well and Boneys
Its situated not far to the east isLondon Bridgea limestone formation and is part of the Shipwreck Coast. A mecca for SCUBA enthusiasts are shipwrecks including theFalls of Halladale ,Schomberg, Antares and the famous Loch Ard, all victims of the sometimes notorious and treacherous waters.
If you want to get out and feel the sea breeze in your hair the world renowned Bay Of Islands coastal park is great for fishing, diving or just relaxing on the sand.Bay of Martyrshas spectacular views and a self guided walking tour.
The Bay of Martyrs of is 2.5km long and also includes the pristine and beautiful Crofts Baya breath-taking kilometre long beach, sheltered from the elements by the western outer reef, home of King George Whiting and Southern. Check out Journeys End Accommodationfor more details.
The Schomberg Inn has great food, service and a relaxed feel.
There is also a licenced grocer and a take away shop
Skydive 12 Apostles is Australias most spectacular skydive that takes off from the Great Ocean Road Airport. Take it all in as you jump from 14,000 feet over The Great Sourthen Ocean. For anyone that wants to keep there feet on the ground thePeterborough Golf Club is a 9 hole beachside Link course located in the dunes. Players will be treated with the worlds most spectacular scenery.